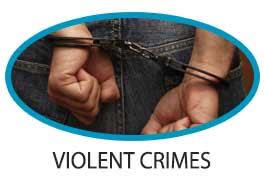 Violent crimes are serious acts against nature. They can greatly harm someone and affect them for the rest of their lives. Victims of violent crimes can suffer physical and emotional issues well after their incident. Due to the terrible crime, the individuals who commit these acts should be punished. Their crime affects the well-being of another person. A violent crime can have harsh penalties due to the nature of the crime itself. Those who commit violent crimes are committing an act against another human being by injuring them physically and possibly emotionally. This bad nature of hurting another individual physically and emotionally has the ability to end someone up in jail. Individuals with a charge for a violent crime face years of imprisonment and possible probation depending on each case.
The FBI has guidelines that define a violent crime. They are considered to be murder, manslaughter, robbery, aggravated assault and rape. New York state has added to the definition of violent crimes by including burglary, kidnapping and most sexual assaults as violent crimes. If you are charged with a violent crime no matter to what degree, you should receive legal help. This charge can alter your life.
How are these crimes categorized?
When violent crimes are committed, the guilty individuals are placed into categories depending on their crime. Violent crimes are categorized by felonies ranging from Class E, the least serious case, to Class A-1, the most serious crime. Class A-1 felonies can include murder, terrorism, first degree arson and first degree kidnapping. Class A-II felonies include predatory sexual assault and predatory sexual assault against a child. As felonies progress to Class B felonies, they are considered less serious in nature and may not have as many consequences.
Class B felonies include aggravated assault, rape, kidnapping in the second degree, robbery in the first degree and burglary in the first degree. Class C felonies involve aggravated manslaughter in the second degree, robbery in the second degree, burglary in the second degree, various weapons charges and assault on a judge. Class D felonies are categorized by felonies including second degree assault, second degree rape and reckless assault of a child. Class E felonies include persistent sexual abuse and fourth degree aggravated sexual abuse.
Kevin T. Conway has over 30 years of experience as a Spring Valley criminal attorney handling DUI, DWI, traffic violations, violent crimes, sex crimes, illegal gun possession, shoplifting, and juvenile crimes. Attorney Conway is also experienced in commercial law matters, zoning law, and estate planning. If you need a Rockland County criminal lawyer, contact our Spring Valley office for a free consultation.